I like communication that uses the Morse code which is the most basic modulation by my hobby "Amateur radio". This looks like the communication by signal fire. When we enjoy the voice communication, but the propagation condition becomes worse and is difficult to continue the conversation, then we switch to the Morse code communication instead of the voice, it keeps communicating with as a small but clear light attached at the dark night.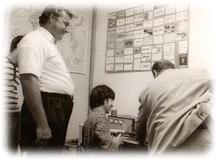 When I visited West Germany in 1976, Sigi (DK9FN), Bernhard (DF5FJ), and Holger (DF2FQ) took me to the Seligenstadt Amateur Radio Club (DOK F38, DK0RA). This was my first visit the foreign club station. When I arrived at the DK0RA club house, Hans (DJ3QT) talked to me "Welcome to our club." by the Morse code stricken with the key connected to the transmitter there.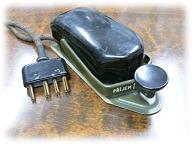 Usually, I use my hand-made electronic keyer that can make "1:3" accurate Morse code. But when I use the straight key, I can tell not only words but also my "Feeling" to my friend even by using the Morse code. The left straight key was presented me by Dr. Karl-Heinz Ilg (DK2WV), who is one of my best friends, and is a famous DX Peditioner in the world. Vielen Dank, lieber Karl !
In the recent state examination of the amateur radio operator, the examination of the Morse code is not required. But I hope the Morse code communication will use forever.